SEC12 Field Review By Jason Varnadoe @OutdoorX4 Magazine
Mile Marker proves it's ready to recover in tricky situations
When the U.S. Military fielded the contract for a recovery winch for the legendary HMMWV, numerous companies volunteered their best to meet the needs of those in uniform. After a hellish and abusive 2½ year trial, MILE MARKER and specifically their two-speed hydraulic winch was chosen to answer the call. Today, MILE MARKER has a full line of 12-volt, (24-volt applications available), electric winches built to suit any need that may arise on the trail for your Jeep, SUV, Truck, UTV, or ATV.
Recently, I had the opportunity to evaluate MILE MARKER's SEC-12 12-volt electric winch. Synthetic lined and with a rated capacity of 12,000lbs, the SEC-12 meets all the challenges that I would face on my travels around the Arizona desert.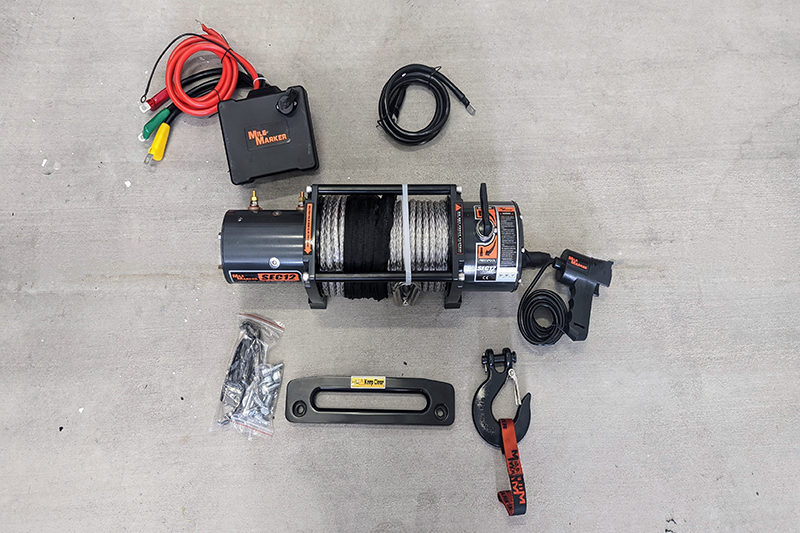 The SEC-12 features a series wound 4.9HP 12V motor. The SEC-12 has an automatic load holding brake and a submersible 400 Amp solenoid to ensure proper and safe function in recoveries at precarious angles and inhospitable environments. With a 3-stage planetary gear train and a 249:1 gear ratio, the SEC-12 supplies enough power to extract you or your buddies from almost any off-road situation. The SEC-12 comes packaged with everything you need for a rock-solid installation with clear, detailed instructions on said install and operation.
A few days ago, I set out to the deserts near my home to try to find a situation to evaluate the capabilities of the MILE MARKER SEC-12. After an hour or so of riding around the dusty paths that weave throughout the landscape, I rolled over the apex of a hill and saw the glint of the sun reflecting off a windshield about half a mile ahead.
A young man named Isaac was out and about just as I was. He was searching for a new hiking spot and got turned around as he was unfamiliar with the area. The obvious lesson of having proper means of navigation in unfamiliar terrain aside; he was at least prepared with a significant amount of water, an absolute necessity in Arizona. Especially this time of year where temperatures are already approaching triple digits.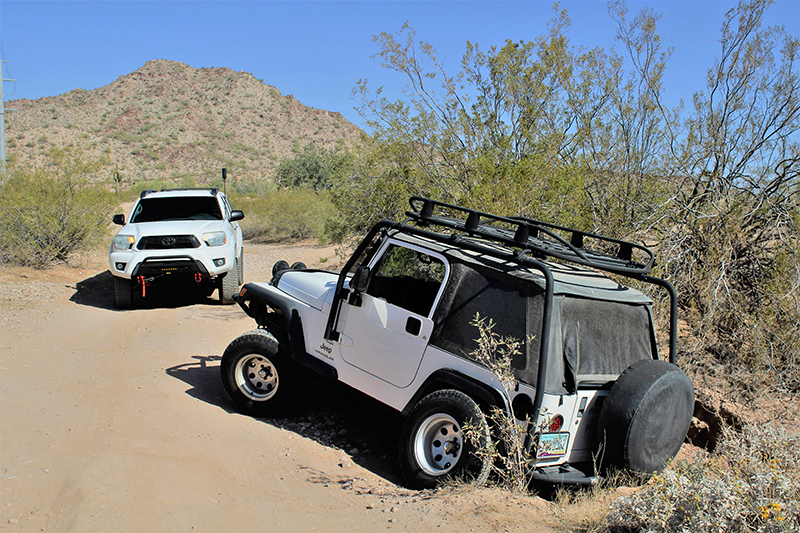 Isaac told me that he didn't want to get too deep into the desert and was attempting to turn around, when he misjudged his distance to a small drop off and accidentally backed off the ledge. He was trying to make a three-point turn so as not to go off trail, (TREAD LIGHTLY!), and surprisingly got stuck. He figured a quick shift into 4WD, and he'd be right back up on the trail and heading back home in no time at all.
Unfortunately, (See: Murphy and his law), Isaac's 4WD would not engage, and his open differential in the rear was only applying power to the wheel digging into nothing. For whatever the reason of the malfunction, his only available option was to hope to find a rock large enough to jam underneath his free spinning wheel. He searched unsuccessfully for about 30 minutes trying to find a rock to fit the bill. He was about to try calling friends to get help, until I happened upon the situation with the perfect tool necessary to get this young man back on the trail.
After an introduction and quick rundown of what I was doing out on the trails that morning, Isaac agreed to be the guinea pig for my test of the MILE MARKER SEC-12. I took a few minutes to explain what I would need him to do while the operation took place and began to setup the pull.
Note: Make sure proper attachment points and equipment are used, fortunately, Isaac had D-Rings to attach the winch line to.
Synthetic winch line has proven itself to be dependable in recovery operations, providing a level of safety and ease of use that time honored steel cable can't compare. Every piece of gear has its own Pros and Cons, but for my applications, the 3/8" synthetic line on the SEC-12 fits the bill 100%. Even though synthetic line is not as potentially dangerous as steel cable should a catastrophic failure occur, always set up every recovery operation as safe as possible to mitigate any chance of an injury should a line breakage event take place.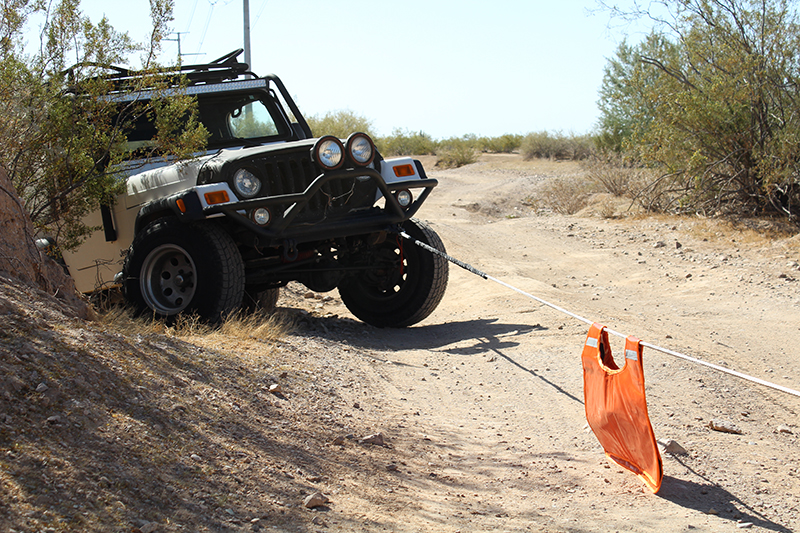 After setting up the pull, removing the slack from the line, and once again going over what I needed him to do; Isaac took a seat in his beleaguered Jeep, put the transmission in neutral, and turned his wheels into the line of the pull.
In under a minute of operation, the MILE MARKER SEC-12 successfully pulled the floundering Jeep from the washout, without any electrical or mechanical issues to be observed.
Once the recovery was complete, I disconnected the winch line and respooled the drum while Isaac attempted to discern why his 4WD would not engage. The best we could figure was that it must've been some sort of a mechanical bind, as shortly after the line was removed, he was able to successfully engage the front axle.
I acted as a spotter while Isaac completed the afore-attempted three-point turn, pointing the nose of his now freed TJ back in the direction of civilization. After returning to 2WD, a few minutes of conversation, and trading of IG profiles, he set off on his way home. I meandered about the desert for another 30-45 minutes, taking photos of the local Ocotillos that were beginning to bloom.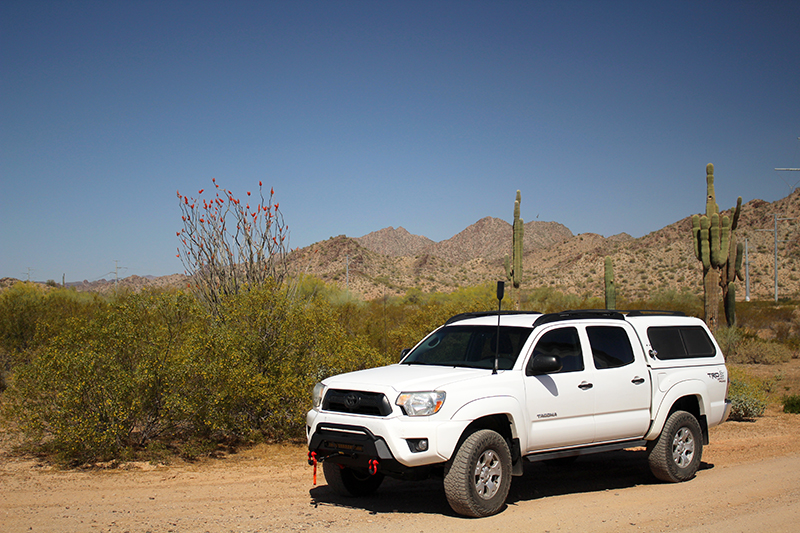 After a few moments, I decided that testing for the day was complete. The MILE MARKER SEC-12 had successfully proven itself in a real-life recovery situation. Considering that routine winching tasks such as this are going to be the majority of cases, with the obvious consideration of self-recoveries notwithstanding. I have no doubt that the SEC-12 will handle any and all tasks that I may encounter in my travels, and that it is a solid choice if you are in the market for an electric winch for your overland rig.
Read Original Post: Field Review: Mile Marker's SEC-12 Winch